Be more proactive with GSX Monitor & Analyzer For Domino
The application is installed quickly and simply on any client machine. No installation or configuration changes are needed on the monitored servers. GSX Monitor simulates an end-user, and can therefore accurately determine the level of service being delivered to customers.
Use the Change Monitoring Module to track every change made in distributed environments, and ensures verifiable policy compliance.
Working in tandem with GSX Monitor, GSX Analyzer provides extensive analysis and reporting features that enable administrators to automate their management and SLA reporting, and gain a valuable insight into the overall health of the infrastructure.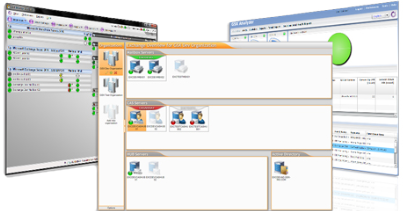 Benefits
Monitor the health of your Domino applications and data, by identifying underperforming agents
Ensure compliance to corporate policies: Track and manage change requests, monitor changes to groups, and demonstrate that security policies are monitored and enforced
Identify communication problems between servers, and protect your end user from performance slow down
Get statistics and automated reports to control the overall SLAs of your business-critical applications according to pre-defined KPIs
Check the replication of your Domino environment, keeping a regular eye on it for proactive corrective action
Manage your Domino Domain to ensure availability and performance of your Domino environment
GSX MONITOR & ANALYZER also available For SharePoint
Monitor, Report and Alert on the components and services that really matter while staying two steps ahead of your end users issues.
Improve your performance, enhance user and business experiences, boost user adoption with constant tests of your environment as a user would do and check the results of your efforts to adjust resources and demands.
Receive insights on what you should work on to boost the user experience and avoid any performance complaints.
GSX Solutions' flagship product, GSX Monitor and Analyzer, proactively checks the key services users need to use at the site, server, at the farm level and alerts you before there is an impact on user experience.
GSX keeps a business up-and-running by identifying SharePoint services, sites and servers that have performance or availability bottlenecks before they cause major impacts on your company.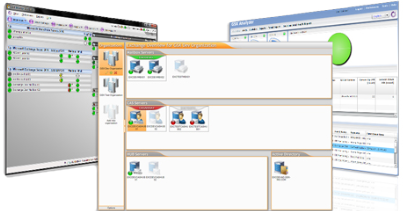 Benefits for SharePoint
Measure the performance of your SharePoint environment from the end user's perspective.
Check the availability of your SharePoint services thanks to end user simulation that gives real-time information on your site, server and farm availability.
Proactively manage your environment. Be alerted of potential issues before they impact the users. Receive alerts on performance indicators.
Manage the SharePoint SQL environment by checking the SQL servers, the Content Databases and the configuration databases. Offering more than just availability, get alerts and statistics on the growth of the SQL environment.
Manage the SharePoint Farm and detect any problems that could impact your end-users. GSX performs complex scenarios to be sure that the SharePoint farm is working as expected.
Report on the availability, capacity and usage on your Microsoft SharePoint environments. Get the metrics you need to measure your overall collaborative environment performance.